<![if !supportLineBreakNewLine]>
<![endif]>
05.24.2022 Mr. Brad Bowhay and Tony Mayhall received Exemplary Rating from Jacobs.
Jacobs stated that "BFA's performance was exemplary. The excellent technical work leading up to, and during Artemis I Wet Dress Rehearsal was invaluable. All products were delivered on, or ahead of schedule". "Particularly noteworthy was the excellent technical work in the areas of Exploration Upper Stage, automated flight safety systems".
Special thanks to Mr. Bowhay and Mr. Mayhall.
07.18.18 Mr. Brad Bowhay receives the NASA Snoopy Award. Silver Snoopy awards are limited to no more than 1% of eligible recipients. The Silver Snoopy award is a special honor awarded to NASA employees and contractors for outstanding achievements related to human flight safety or mission success. The award certificate states that it is "In Appreciation" "For professionalism, dedication and outstanding support that greatly enhanced space flight safety and mission success." The award depicts Snoopy, a character from the Peanuts comic strip created by Charles M. Schulz. The award is given personally by NASA astronauts as it represents the astronauts' own recognition of excellence.
Congratulations Brad!
<![if !vml]>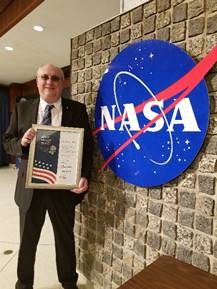 <![endif]>
02.23.16 Our NASA support team has exceeded expectations again. The BFA NASA team received a rating of "Excellent" for 2014-15 as a subcontractor. Citation is as follows: "The BFA Systems employees could not do a better job. There are never any complaints regarding these subcontractors. In addition, they are a major reason that ESSSA receives a perfect score on our own evaluations from our sub-element initiator. BFA was recognized with two NASA Group Achievement Awards for participation on the Booster Critical Design Review Team, one "Honorary Bulldog Award" for superior support, Determination and commitment to technical excellence for work on the Forward Separation Bolt Data Acquisition System Redesign, and one SLS Manager Commendation Award in support of Booster. The subcontractor is an active participant in the ESSSA Group's commitment to safety." The evaluation had a special mention for Mr. Alan Norwood who was a valuable member of this team.
07.22.10 Ms. Jane Jattuso from the Ark visited BFA on the 22nd
of July and she briefed our company on what her program does.
She brought along an animal named GingerBear. Their mission
is to rescue as many homeless animals as possible. The ARK
prides itself on maintaining a no-kill policy except for reasons
of mercy or dangerous temperament. The economic situation
has caused many pets to be abandoned. The ARK provides
veterinary care for each animal to include spaying/neutering
before adoption. Last week at the ARK, BFA presented a small
momento to the ARK showing our appreciation for all they do for
the community.

03.24.10 Mr. Hamilton Holliday was recently selected as BFA's
Employee of the Quarter (1st OTR) 2010. Hamilton has shown
exceptional diligence in his job performance and job knowledge
in the MDA HWIL arena. Hamilton demonstrates outstanding
work ethics by supporting the "team concept" and providing
valuable technical knowledge to accomplish all tasks. Hamilton's
job performance exceeds that of his other peers by continuously
learning and always seeking new opportunities. His drive to
support the mission in unmatched by his attitude and performance. Hamilton's accomplishments have surpassed the expectations of all the V&V leadership here at AMRDEC.


04.21.09 BFA Hope recently donated to their second [employee chosen] charity in North Alabama this year. Bill McDowell, Executive Director of Second Mile Development, accepted the award at BFA's March luncheon last week. Second Mile Development runs a program called Pride for Parents in Madison County. Pride for Parents allows families to buy clothing and household items at a low cost, or they enable individuals to work and receive store credit as payment. This program also helps parents with school supplies in the fall and toys/gifts during the Christmas season. Pride for Parents allows parents the dignity of being able to provide for their own families. The program began in 1987 and serves thousands each year. BFA is proud to support and help contribute to such a wonderful cause.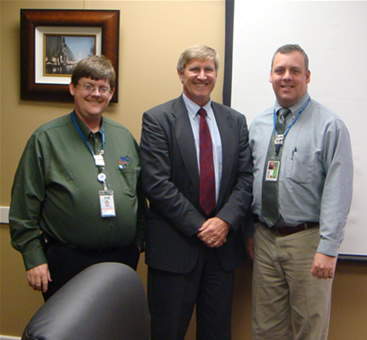 Bill McDowell (center), Executive Director of Second Mile Development, graciously accepts a certificate from Dr. Mike Foust, BFA President (left) & Dan Bodeker, CEO (right).


03.25.09 Mr. Jason Johnson was recently selected as BFA's (first) Employee of the Quarter for 2009. Jason consistently shows a can-do attitude. His untiring efforts in helping MDSE Verification & Validation has helped solidify the team and increase confidence to the customer. Jason exceeds expectations by continuing to improve the qualitative and quantitative data for his elements from GT-03 events.One of BFA's (MDSE) customers stated, "We are pleased to have you [Jason] as a team member and I'm glad that somebody else recognizes your outstanding performance." Way to go, Jason!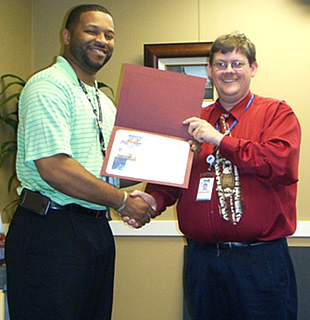 Jason Johnson with Dr. Mike Foust, BFA President.


02.13.09 BFA Systems is now mentoring a new and growing company, Recast, Inc (990 Explorer Blvd, Suite D). This small company is an 8a Small Disadvantaged Business run by Buck and Felicia Johnson. Buck Johnson is 6'7 and was a basketball star at Alabama. In 1986 he was drafted by the Houston Rockets in the first round of the NBA. He spent seven years in the NBA (Houston Rockets and Washington Bullets) and another ten years playing overseas before retiring from basketball. He is now a volunteer basketball coach in Huntsville, on top of building his new defense company. Buck is currently going through the Huntsville/Madison County Leadership program (Class 22) and is an active supporter
of HEALS (Health Establishments at Local Schools): a non-profit organization that provides free school-based comprehensive medical and dental services, mental health counseling and social services to children. Recast and BFA will be collaborating together on a several DoD programs at Redstone Arsenal starting in March.

02.10.09 BFA is proud to announce the hiring of Mr. Steve Godfrey. Steve will also be supporting the MDSE program. He currently lives in Pennsylvania and will be traveling to Huntsville every 4-6 to help support BFA and MDSE. Welcome to our team, Steve!

02.10.09 BFA is proud to announce the hiring of Ms. Erin Saalwaechter. Erin will be a part-time employee and supporting MDSE. Erin has worked as a Developer, Engineer and Analyst at TBE and Torch Technologies. With this experience, she will most definitely be an asset for the MDSE program. Welcome!

02.10.09 BFA is proud to announce the hiring of Ms. Sandra Rackauskas. Sandra will be a part-time employee supporting the MDSE program and will be splitting her time with our other new-hire, Erin. Welcome aboard, Sandra!

01.20.08 Congratulation to MR. JIM WINCHESTER! BFA Systems is proud to recognize Jim as the official "2008 Employee of the Year." Mr. Winchester's accomplishments reflect credit upon himself and BFA Systems by displaying remarkable versatility, unbridled initiative, outstanding engineering competence, and strong business leadership. Congrats, Jim!

01.05.09 BFA is proud to announce the hiring of Mr. Steve Doubet. Steve will be supporting the development of the Joint Land Attack Cruise Missile Defense Elevated Netted Sensor System (JLENS). Welcome!

01.05.09 BFA is proud to announce the hiring of Mr. Scott Grant. Scott will be supporting the MDSE program. Welcome to the BFA Team, Scott!

12.13.08 BFA hosted the annual children's Christmas party at the Earlyworks Museum, followed by the employee Christmas party at the Madison Sqare Mall, Holiday Inn. The festivities featured great food, entertainment, awards and fabulous gifts. Yet another memorable event for the families at BFA.

10.14.08 BFA is proud to announce the hiring of Ms. Jeania Hastings as IT Administrator. Welcome aboard, Jeania!

10.06.08 BFA is proud to announce the hiring of Ms. Mimma Pisano. Mimma's technical writing skills will be vital to the continued success of BFA.

08.25.08 BFA is proud to announce the hiring of Cathy Patterson and Matt Dyer. Both Cathy and Matt will be supporting the MDSE division.

08.18.08 BFA was a proud Silver Sponsor of the SMD Conference 11-15 Aug. Thanks to everyone who dropped by!
BFA has been nominated for Small Business of the Year and BFA's CEO, Dan Bodeker has been nominated Entrepreneur of the Year. Winners will be announced Friday, Aug. 22!

08.04.08 BFA is proud to announce the expansion of it's administrative support staff with the hiring of Jeannie Stubblefield and Jamie Rushing. We welcome these ladies to the team!

07.22.08 Look for us today at the MSFC/Huntsville Chamber job fair, hosted by Adtran. For available job postings, please click here. stop by and say hello--and mention our website!

07.14.08 BFA is proud to announce the hiring of former starting center for Vanderbilt, Mr. Hamilton Holliday. Mr. Holiday is a Mechanical Engineer supporting the MDSE program.

06.26.08 MDA has shared a great video of a THAAD interceptor launched from Pacific Missile Range Facility. Watch the video here !

06.23.08 BFA is seeking an experienced Database Programmer with SQL knowledge. To apply for this position or for more information, please click on c areers .

06.20.08 On June 19 the Huntsville/Madison County Chamber of Commerce hosted a Ribbon Cutting to commemorate 3 years.

06.12.08 On Thursday, June 19 at 10:00 am, BFA Systems will host a Ribbon Cutting ceremony at our company headquarters on Explorer Blvd., hosted by the Huntsville/Madison County Chamber of Commerce. The milestone event will help commemorate our three years in business.

05.22.08 For a photograph of BFA employees, Jim Winchester and Shawn Jones explaining the MV-4 program to New York Giants Running Back Brandon Jacobs at Robotic Systems Joint Project Office, please click here and here . Brandon Jacobs was in Huntsville visiting family and took an opportunity to visit Redstone Arsenal and the RS JPO.

05.12.08 BFA Systems will participate in the Test Week tradeshow at the VBC, June 2-6, 2008! Please stop by and say hello--and let us know you found us on the website!

05.09.08 BFA Systems is proudly entering into it's third year anniversary this May. To read BFA's annual Letter from the President, please click here.

05.01.08 BFA Systems recently participated in the AUVSI Tradeshow Symposium at the Von Braun Center. For more information on AUVSI, click here.

04.30.08 BFA Systems proudly supported the American Heart Association Golf Tournament.

04.09.08 BFA Systems is proud to welcome three new employees Mr. Andy Witzig, Mr. John Hughes and Mr. Walt Jackson. All three will be supporting various efforts throughout BFA Systems, Inc. and are true assets to the company.

01.23.08 BFA Systems is now teamed with Jack Lee & Associates to provide ongoing support to NASA and MSFC.

01.22.08 BFA has begun supporting Boeing Systems, Engineering, and Integration providing specialized support.

To view older press/news releases from 2005-2007, please click here .